Experience to live :
LET US Guide you.
Some people like to read or draw. My passion is food. I'm always looking for high quality local products, on the lookout for original recipes. One of my guilty pleasures is cheese. It's partly what brought me to Rodez in the first place. Apparently, I can find a cheese called "Le Rodez" .
I just need to head straight to the market on a Saturday morning. I'm bound to find it there! My basket won't be empty for long! I'll also be stocking up on souvenirs, colours and great smells. Foodies, follow me and you too imagine your own recipes!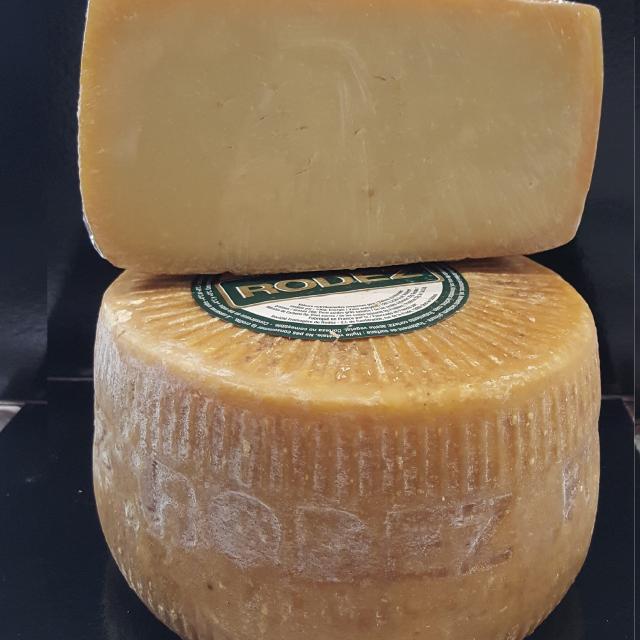 The quest for a product made in Rodez
I first head to Place François d'Estaing. I spot a cheese stall. Do they have what I'm looking for? Let's see
I should recognise it easily: it's round, hard and has its name written on it! Got it! Now let's taste!
That's a pretty strong flavour! It is a little grainy and slightly tart! The Italians were not wrong! It's delicious! I'll take a piece.
I'm inspired. Lots of ideas come to mind: simply eaten as shavings, in an espuma or even a polenta with Vieux Rodez. For those who can't or don't want to cook, some restaurants masterfully include Le Rodez in their dishes!
Simple pleasures
I did well to come early. I don't know about you, but I love to soak up the atmosphere of a market. I could easily spend hours here and, knowing me, that's definitely what I will do!
I also love to see the city awaken from its sweet lethargy. The noises of the night give way to the gentle squeaking of the stalls as they are set up, to laughter and conversations between street vendors and customers exchanging a few jokes. I've already seen a few restaurateurs, like me, in search of fresh produce and opportunities to socialise. That's something else that I love!
Here, everything is close at hand and what a choice (more than 160 vendors, market gardeners, farmers, organic or conventional, are grouped together)!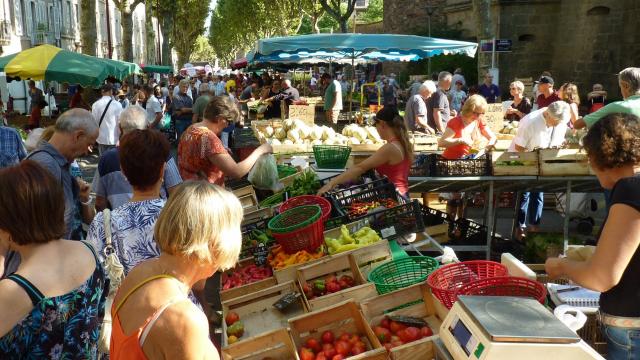 It's the city's colourful gourmet showcase.
Spring is already here on the market stalls. It brings with it colourful, crisp and tasty products. As winter fades away, cabbages are disappearing. Green asparagus, radishes, tomatoes, aubergines and strawberries are emerging and announce the arrival of summer.
I would die for an asparagus risotto and a creamy strawberry tart!
Sounds good! I think I'll find what I'm looking for on the Place de la Cité, just a stone's throw away. Strawberries from the Lot or Aveyron exude a sweet and delicious aroma. They are red to perfection, beautiful sun-kissed berries. I notice that some stalls have almost sold out!
I have my little favourites. When I'm on holiday in a region that I don't know, it's inconceivable for me not to taste its local delicacies. As the market is located on three squares, I still have to discover one more and what it can offer!
Off I go to Place du Bourg to finish my shopping!
Some forty years ago, Italians from Puglia, south of the peninsula, came to Rodez to get their milk supplies, to make up for the deficit in milk production in their region. They even bought curd cheese in bulk, took it away in trucks before maturing it for two months. In 1990, the maturing process finally moved to Rodez: tomme de Rodez was born.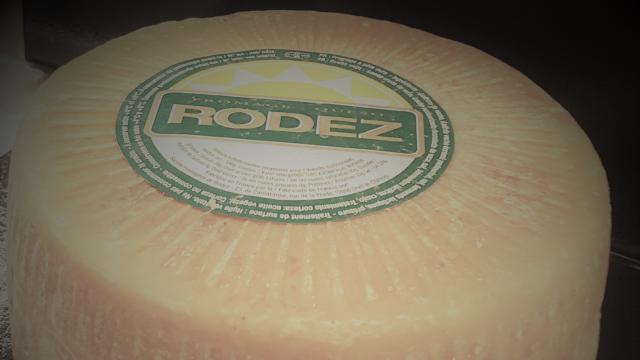 Il giusto sapore
Il giusto sapore

Let yourself be carried away by this lively crowd.
I'm surrounded by passers-by, as if I were taking a little walkabout. What I like about all this is that some people stop to chat in French or in Occitan.
I listen to them. Their phrasing conjures up a little taste of elsewhere, of the sun, of the South. In moments like this, I would like time to stop still.
Time to taste.
My adventure would not be complete without tasting the famous farçous. I think I know where to find them. There's that subtle smell and I can hear that frying noise. Yum! My senses guide me and as I approach the stall, I see a queue forming. There it is! Patience, patience! Good things come to those who wait.
I decide to wander around a little longer before tasting them. With everything that's going on around me, the wait is interesting.
I love savoury food. I like vegetable although I admit that they also give a good conscience, but I have almost no will when it comes to sweet treats. I cave in and buy myself a piece of fouace (a type of brioche) and a rissole aux pruneaux (prune turnover). For the main course, I add a duck breast, a little aligot of course before buying my farçous. I think I now have everything I need.
I really want to taste one of these farçous but with what?
A glass of red perhaps? Now is the idea time to sip a small glass of Marcillac wine at a pavement café to round off this delicious moment. A place inspires me: "Ô Petit bonheur !". Just what I was looking for!
I missed market day, where can I find good local products?
Aveyron Gourmet: 20 rue Louis Oustry, Rodez
Les halles de l'Aveyron: Boulevard des Balquières, Onet-le-Château
La ferme des Artisous: 3 rue Bosc, Rodez
Le mazel: Passage Mazel, Rodez
L'artisan du fruit: 3 rue Corbières, Rodez
La mandarelle: on sale at Pâtisserie Clément: 3 rue d'Armagnac, at La Pyramide de Montagne, 15 rue du Touat, at l'Étoile des Pains, 2 Rue Béteille, Chez Pascual, 5 boulevard d'Estourmel
Cave Ruthène: 8 Ter rue Combarel or 11 Avenue de l'Entreprise, Rodez
La cave de Marius: 6 place de la Cité, Rodez
V and B: 5 Espace Commercial Saint-Marc, Onet-le-Château
Alambic et vieilles Bouteilles: 9 rue Aristide Briand, Rodez